What to Expect at Everest Base Camp Trek with Helicopter?
The Everest Base Camp Trek return by Helicopter kicks off with a scenic flight to Lukla Airport (considered one of the most adventurous airports in the world). It then gradually goes up to Namche Bazar, Tengboche, and Everest Base Camp. The trip then signs off with An Amazing sunrise view from Kalapathar. Kalapathar is also known as Black Stone. It is the starting point for the world's highest marathon spot.
Everest Base Camp with Helicopter Tour helps the traveler explore the beauty of the Everest Region on the northern side of Nepal. The Amazing view of the Himalayan range in the Everest region can be seen on our journey to Kala Pathar. Reaching the base camp of the world's highest mountain within a few hours is not a joke for all the travel freaks across the globe.
Taking a helicopter from the Tribhuvan International Airport and moving towards Kalapathar is already as exciting as you think. You don't have to worry about all the packing stuff, The guide, The porter, The flight to Lukla, and everything else about the Everest Base Camp Trek from now on. We are here to take you to the 5545-meter elevation above sea level, named Kala Patthar. This trip can be completed in 11 days during this trip, ignoring all the problems that may arise during a 12-to-16-day trek.
The Helicopter is a place to analyze the beauty of the Eastern Part of Nepal. You can easily spot the hidden natural beauty of Nepal from an aerial view. Gradually moving towards Kala Pathar, you will face cold weather and low temperatures. After Reaching 5510m. above sea level, you will face a little altitude sickness, but don't worry, you will be bringing medicine to make you healthy again.
The Grand View of Lhotse, Makalu, Cho Oyu, Amadablam, Island Peak, Pumori, Nuptse, Thamserku, and Lobuche Peak can be seen from a single spot at Everest Base Camp and on the flight to reach there. You will stand right next to the world's greatest Khumbu Icefall and Khumbu Glaciers. At the bottom of Khumbu Glacier, you will get the chance to see memorials of people who made it to the top of Everest but never came back.
We will also be having a short Tea break before heading towards Lukla. A delicious Nepali lunch will be served in Lukla. It is the most critical luxurious Everest Base Camp Trek place for trekking routes around the Khumbu Region. Lukla is the gateway to all the mountains around Everest.
Also, Sherpa Culture and lifestyle are other keys to making this place more beautiful than it was. Many monasteries can be seen on our way to Kala Pathar and Lukla. Everest Base Camp tour by Helicopter will efficiently fulfill your dream of being in one of the highest spots.
Benefits of Booking Everest Base Camp Trek Return by Helicopter with Us (AdventureAlitudeTreks)
Free Airport Pickup and drop
Our Company Duffle bag and T-shirt are complimentary.
Medical Kits and oximeters check your blood pressure and oxygen level at high altitudes.
The trekking map and Welcome Dinner are free of charge.
Free excess logs stored at adventure altitude treks
Everest Base Camp Trek Return by Helicopter: Is This trip right for You?
Trekking in Nepal is one of the best adventures, and the Everest Base Camp Trek Return by Helicopter is the best. The adventure into the foothills of the highest peak, Everest Base Camp Trekking with a Back to Helicopter Tour is a once-in-a-lifetime adventure. The 12 days of trekking in Nepal offer the opportunity to explore the natural and cultural wonders of the Everest region. The major attractions are the views of the mountains, the local life and the living style of the Sherpa people, and the occasional encounters with wildlife. Everest Base Camp by Helicopter kicks off with a scenic flight to Lukla Airport (considered one of the most adventurous airports in the world). It then gradually goes up to Namche Bazar, Tengboche, and Everest Base Camp. The trip then ended with a fantastic sunrise view from Kalapathar.
Trekking in Nepal is a seasonal activity, and the best times to trek in Nepal are in the spring (March-May) and Autumn (September-November). Trekking to Everest Base Camp in The Winter ( December-February ) is considered to be okay. But Trekking in monsoon (June-August) is not recommended due to the heavy rainfall and the uncertainty of Lukla's Flight.
Difficulty wise Everest Base Camp Trek is rated as a moderately difficult expedition. The maximum elevation, you will get during the trek is 5,545 m at Kalapathar. During the trek to Everest Base Camp, you will be walking five to seven hours a day, and that is mostly above 3500 meters above sea level. The trek is local teahouse trekking, where you will be spending the nights in the local lodges.
Gorkhshep to Lukla by helicopter: A multiple benefits
Flying back by helicopter from Gorakhshep to Lukla is a very popular air route trend in the Everest region. It's great for people who don't have much time for a long trek but still want to experience the beauty of the mountains. The trip starts in Kathmandu and involves flying to Lukla by plane. Then, until the eighth day of the trip, you will be involved in high-altitude trekking activities. Along the way, you'll see stunning snow-covered mountains, learn about mountain culture, witness local lifestyles, and see farms, green forests, rivers, and lots of waterfalls. When you reach Everest Base Camp, you'll feel a sense of accomplishment just like other trekkers who walked the whole way. Many travelers prefer taking the helicopter from Lukla because it's quicker and makes their trip happier and more memorable.
Usually, the Everest Base Camp trek is very famous worldwide. This trek is shorter and a bit more luxurious when you return by helicopter. Return by helicopter gives you breathtaking sights of the world's tallest mountains. You'll also see everything you traveled on foot from above, like a bird's eye view. Imagine this: you're at the bottom of the highest mountain on Earth, and within a few hours, you're back in Kathmandu enjoying the comforts of the city. While you relax, you can remember the amazing adventure you just had.
The best time for the Everest Base Camp Helicopter tour is divided into a couple of seasons: March, April, May, and the early part of the monsoon season. During both of these times, the weather and climate are excellent. You'll get to see amazing views of the tallest peaks in the world, including Mount Everest, Mount Lhotse, Makalu, Kanchenjunga, and Amadablam.
Everest Base Camp Trek Return By Helicopter From Gorakchep cost for 2023/2024
How to prepare yourself for the Trek and Everest base camp return by helicopter?
The Everest BaseCamp Trekking is challenging and adventurous, and it's s very important to be prepared, and physically fit, mainly make to do this trip short time so you can get more information and lifetime memory trip to lifetime, that way it is always advisable to Consult with us if anything you need to know about the information most up
Research and planning
Select a trekking spot that matches your fitness level. If you think you are fit for Everest Base Camp Trek, that is the first condition of it and you can do it. Next, Prepare!.
Trekkers should be informed about the Everest Base Camp trekking region, the weather conditions, trail status, necessary permits, and the regulations for trekking in that area.
When you decide to trek to Everest Base Camp, you begin getting ready with the necessary items for the trek and ensure you have a clear understanding of the day-to-day schedule of the trip.
Physical Fitness
Create a consistent exercise routine at least six months before your trek. Focus on activities that boost your cardiovascular fitness, like hiking, running, cycling, rock climbing, and endurance exercises.
Team up with others who are carrying backpacks and hike to nearby locations where you can spend time. This will enhance your fitness level, train your muscles, and prepare you for the physical demands of trekking.
Develop your body's coordination and balance by using body-weight exercises. Practice managing your backpack's weight to ensure you're comfortable and well-prepared before the trek.
What should you pace for the Everest base camp trek return by helicopter?
When making plans to Everest base camp, it's very important to maintain a study and suitable peace to ensure your safety first to know about. Acclimatization and Enjoyment of your journey here are the same to ensure the trip to Everest.
Wake at a moderate pace
Make plans for this trip to the Everest Base camp trekking to the mountain you need to know about the comfortable walking speed that allows you to cover a reasonable distance. Every single day without exhausting yourself, the Everest base camp trek at higher altitudes can be more difficult because of the due to thinner air and steered terrain
Follow our itinerary
The Everest Base Camp trek return by helicopter trip was a 10 days trip when you start walking depending on your physical fitness level and Acclimatization needs It's designed to allow your body to adjust your fitness level stick to this itinerary and avoid using high altitude to quickly
Acclimatize properly
The Everest base camp trek requires to 2 days for acclimatization during that day waking shorter hiking 300 m to allow your body to adjust to increasing altitude maintaining sickness (AMS)is a very serious concern about ascending too rapidly only your own risk and sometimes altitude sickness symptoms of AMS headaches, Dizziness, nausea, and fatigue, etc.
Stay hydrated and eat well
When you plan to Everest trek you can drink plenty of water throughout the day to stay hydrated symptoms as dehydration can altitude related symptoms Eat nutritious meals to provide your body with the energy is essential for this tres and is known to be calories to sustain your lever on your body during the trip
The Everest Base camp trek is physically demanding and altitude-related risks are not talk light essential to prepare for the train adequately and peace yourself wisely the most of your experience.
Spring Season
Being the main season of The whole year it is good for aver crowded compared to other trekking seasons and peak seasons as well and more climbers are ready to prepare the Everest climber, especially in spring you know why? because climbers/trekkers are interested in enjoying the nice weather and Sundays, pretty warm dry male view, and beautiful scenery, the clear and perfect time to go spring in Everest base camp trek and return by Helicopter
Monsoon season
The monsoon season is not the ideal time for the Everest base camp trek, the part from the wet weather which time for landsides on during the trail for this time. and sleeper, and muddy conditions -raining and clouds the snow mountain for most of the afternoon, but temperatures are warmer than in other seasons so, if you are preparing for the rain don't mind the trek if you are back After the Everest base camp trek some morning is clear the weather and trekking predictable that and any time of the season the Everest region most important the Kathmandu to Lukla Flight is effected your plan. Because Kathmandu -Lukla-Kathmandu Flight frequently chances to be canceled the weather has less visibility from Kathmandu to Lukla.
Food And Accommodation for the Everest Base Camp trek return by Helicopter
Kathmandu: In Kathmandu, your accommodation will be in high-quality 3-star or 4-star hotels that provide top-notch services and conveniences. These hotels usually come with nicely furnished rooms, private bathrooms, Wi-Fi, and a range of facilities on the premises, including restaurants, bars, spas, and swimming pools.
During the Trek: Throughout the trek, you'll be accommodated in some of the finest lodges and guesthouses found in the area. These top-notch places to stay usually provide a greater level of comfort, with comfortable and well-furnished rooms, private bathrooms, and heated facilities. Certain luxury lodges may even have extra conveniences such as hot showers, Wi-Fi, and places to charge your devices.
In addition, there are many tea houses available along the trek route. Local people run these places to help travelers. They sell various delicious foods from the Everest region, including Indian, Chinese, and local dishes. For breakfast, they serve items like pancakes, cornflakes, Tibetan bread, omelets, and more. During the trek, you can enjoy dishes like dal bhat, noodles, soups, stews, sandwiches, momo, and desserts.
At dinnertime, the menu is similar to lunch, but you can also find soups like tomato, chicken, mushroom, and garlic soup. These are some of the food options you can expect during the Everest Base Camp trek.
Photo About: The Everest Base Camp Trek Return by Helicopter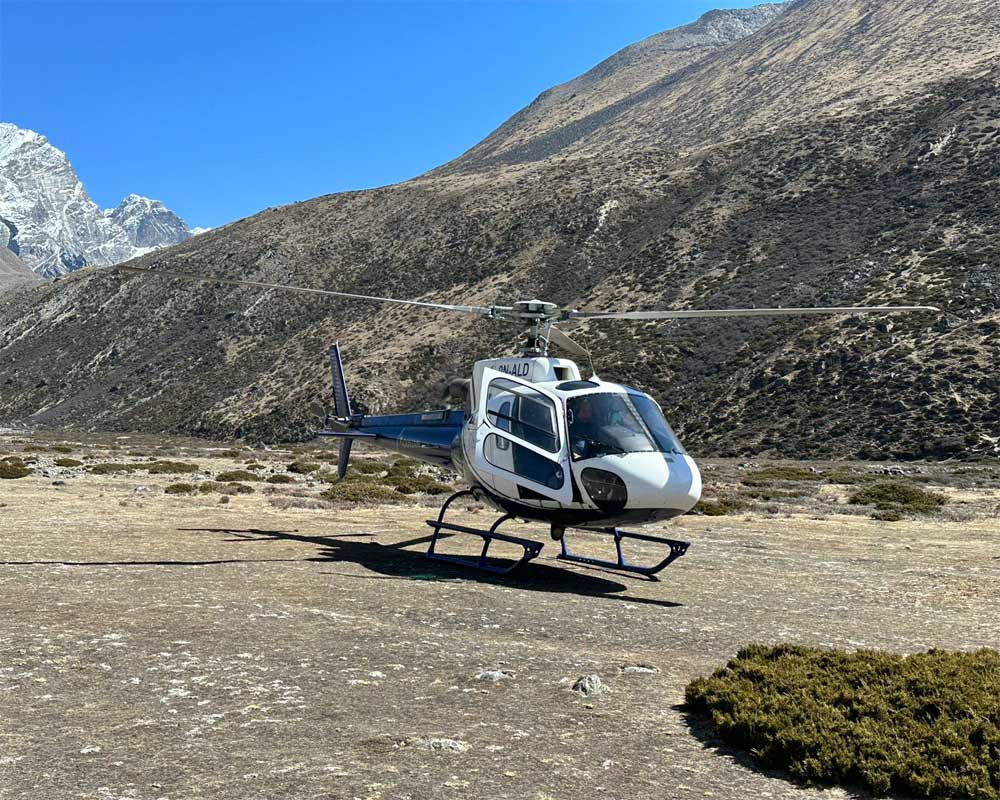 Choose a licensed agency, Hire a registered Guide, and Porter
An officially authorized agency has received government endorsement. The government's Travel and Tourism Council determines such licensed organizations. Enroll with a Nepal-based agency specializing in tours and trekking. This agency will meticulously arrange your vacation, ensuring its success and your safety from your arrival in Kathmandu till your departure. Opting for a licensed agency for trekking in Nepal simplifies nearly everything.
Adventure Altitude Treks, our agency, is dedicated to offering top-notch service and exceptional hospitality to our clients who choose to journey with us, crafting an unforgettable experience. Adventure Altitude Treks is well equipped with all essentials including expert & experienced trekking & tour leaders. Upon registering with a tour and trekking agency in Nepal, you can count on the agency to intricately design your holiday, ensuring its excellence, magnificence, and your security starting right from your arrival in Kathmandu up until your departure, even in the face of unexpected events. Fortunately, selecting a licensed agency makes the entire process effortless.
Some tips from Everest base camp trek return by helicopter
The Everest Base Camp trek return By Helicopter, if your mind makes up for this trip, which we explained before the trek you need to know the right time for this trek, plan your right time for the trek so you have a safe holiday, as you know the best time to choose, the right time weather, and mountain view of the Himalayan region at Everest but do not challenges, you make preparing trek equipment, bag pack wisely that are useful and success your trek to Everest base Camp return By Helicopter.
Things To Know
Internet and phone service
The Everest Best Camp Trek now includes a helicopter return option. Additionally, mobile phone networks and internet connectivity are accessible even in higher altitude areas of Nepal, including places like Everest Base Camp, Gorak Shep, Kalapathar, and along the trekking route. Internet service is available in most tea houses, but for using Everest Link WiFi Data Pack, there is an extra charge based on your usage needs. The cost varies; for instance, 500 Nepali Rupees provides 1 GB of data. This service is particularly reliable in lower altitudes such as Namche Bazaar, Lukla, and Phakding, and the WiFi password is provided along with your room fee.
For trekkers seeking high-altitude adventure, there are recommended options available. You can purchase the internet data package using local Nepali SIM cards, specifically Ncell and Ntc, which tend to be more affordable and dependable. These SIM cards can be used throughout your trekking journey and during hotel stays. Adventure Altitude Treks offers the SIM card free of charge, and you will only need to cover the cost of recharging it.
Flight Conditions during your journey
Due to congestion at the Kathmandu airport, flights to the Everest Region now take off from Ramchhap airport. Ramchhap is situated a few hours' drive away from Kathmandu, necessitating a 2 am departure from Kathmandu in order to make it to Ramchhap for the early morning flights. Day and evening flights are not available due to the strong mountain winds that prevail in the afternoons.
It's important to note that flights are susceptible to delays or cancellations caused by adverse weather conditions. To account for this, we strongly advise incorporating a contingency plan of 2 to 3 extra nights. This means, if your planned flight from Lukla is scheduled for Sunday, it's not recommended to book your international flight for the following Monday. Opting for Wednesday or Thursday for your international flight is a safer option in this regard.
Luggage and Bags during the trip
During the trek, Porters will carry a maximum of 20kg each. Therefore, we kindly request that you pack your belongings with consideration for this weight limit. We will furnish you with a bag or duffle bag designed for porters' convenience during transportation.
While for domestic flights, airlines impose an individual weight limit of 15kg. Any additional weight can be settled at the airline counter within the airport. It's important to be aware that this option is feasible only if the flight's overall weight limit hasn't been exceeded. Given these circumstances, we strongly advise you to adhere to packing lightly. In case you have extra luggage that you need to leave behind in Kathmandu, Adventure Altitude Treks will store them in its storeroom.
Battery Charger
Electric battery chargers are indeed available in Nepal, but they are not easily accessible in remote mountain areas. Therefore, tea houses at higher altitudes, particularly in the Everest Region, utilize alternative sources like solar panels or small hydropower systems to supply electricity within their premises. Depending on the higher elevation you're at, there might be an additional fee for battery charging, which varies according to the type of device you have. To address this, we recommend trekkers consider bringing a solar panel, as it's regarded as the most effective choice during the trekking journey.
Contingency in Everest Region
Due to the unpredictable nature of the weather in the Everest region, significant changes might occur. We kindly ask for your understanding in this regard. It's advisable to heed your guide's recommendations, as adjustments to the itinerary might be necessary due to weather conditions.
Issues Relating to Basic Hygiene
Maintaining good health and fitness is essential for reaching Everest Base Camp. This is especially true when it comes to maintaining good hygiene. In a remote village setting, access to basic hygiene facilities may be limited. Therefore, it is important to plan ahead and pack the necessary items to stay clean. Always carry some basic essentials. First, pack plenty of wet wipes and hand sanitizer. You should also bring a small towel and a change of clothes. Second, be aware of the signs of illness and seek medical attention if needed. Hot showers are available in some lodges along the Everest Base Camp trek, but they are not included in the room rate. You will need to pay an additional $4-$5 per shower. This is because the remote areas of the trek do not have electricity, so the water has to be heated using gas stoves. Gas cylinders are carried all the way from Lukla, the gateway to the Everest region, to the higher altitudes.
The Best Months for Everest Base Camp Trek Return by Helicopter
What is the ideal best time for an Everest Base Camp trek? To put it plainly, the best times are spring and autumn. Yet, it's important to note that due to the extreme altitude of the region, weather predictions are uncertain. While people trek and climb all year, there are specific periods when the weather is more favorable for the average trekker. In order to offer a more precise recommendation for the best time, we've aimed for greater specificity. This way, you can organize your trip during the month that suits you best.
March
In early March, the weather in the Everest region is still very cold, with temperatures around -20°C degrees Celsius. The activities during the first part of the month are similar to those in January. As the month progresses, the weather starts to change, and the latter half of March marks the beginning of the trekking season in the region. If you want to experience the start of the trekking season in the Everest region without facing many people on the trail, consider scheduling your trip for late March.
April
Trekking gains popularity during the months of April due to the milder weather. Along the trail, lower sections come alive with blooming rhododendrons and various other flowers. The days gradually become longer, offering ample daylight for exploration, especially during the well-lit early mornings. As the temperature in the higher altitude goes around 15 ͦ to 20 ͦ during the day while the night could be chilly as the temperature might drop below freezing. As April progresses, you might encounter mountaineers acclimatizing at Base Camp. They are preparing for the climb to Camps I, II, and III on the slopes of Everest, culminating in the ultimate summit push. April is considered ideally a perfect month for Everest Base Camp Trek and the weather also will be more stable allowing regular flights assisting your travel more accessible and smooth.
May
As the weather in early May is quite similar to that of late April, the temperature might rise little bit more making a warmer day while still chilly at night. This month is also ideally considered the best month for Everest Base Camp trek. However, late May will be the onset of the Monsoon in the Indian subcontinent which includes Nepal as well. During this time, you could find yourself alongside mountaineers who are engaged in a sequence of 'rotations'. This involves ascending to higher points on the mountain before descending to Base Camp for recovery, eventually leading to the final summit push. The specific period of favorable weather for these activities varies annually, contingent on the Bengal monsoon. However, the majority of successful summit endeavors tend to take place in late May.
Our strong recommendation for this trip is, in between late April to early period of May, the best and ideal time.
September:
The monsoon gradually comes to an end by the early days of September. Following the complete dissipation of the monsoon, the autumn trekking season commences in late September. With clearer skies, splendid panoramic views become attainable, and the mild weather adds substantial value to your journey. The trails are less muddy compared to the monsoon months, and the mountains offer stunning views with improved visibility. An intense natural and artificial green cover throughout gives you a sense of refreshment. Hence, from all perspectives, the month of September provides a comfortable and enjoyable environment for trekking to Everest Base Camp.
October:
October shines as a month that is distinguished by its clear skies and refreshing air. Beyond its weather attributes, it grants you a comprehensive insight into Nepal's diverse aspects. The prominent Hindu festivals occurring in October will deeply engage you both in Kathmandu and throughout the trekking path. The local traditions, culture, and festive commemorations contribute an added layer of depth to your overall expedition. During the daytime, temperatures at higher altitudes are akin to those experienced in spring, ranging from 10°C to 15°C (50°F to 59°F), but nights can bring freezing temperatures. The month of October is renowned for its vibrant foliage and unobstructed vistas of the mountains.
November:
The initial weeks of November are just as favorable as October for the Everest Base Camp Trek with a Helicopter Return option. The weather remains steady, the skies are clearer, and the atmosphere is clean and refreshing, creating optimal conditions for a seamless and delightful journey to Everest Base Camp. The festival renowned worldwide as Diwali might occur in late October or early November which might bring a tremendous light to your journey. In the latter part of November, the temperature cools slightly, and the trails become less crowded, enhancing the overall experience.